Performance
Food-Themed Racquet Butt Cap Stickers (10-Pack) Set #1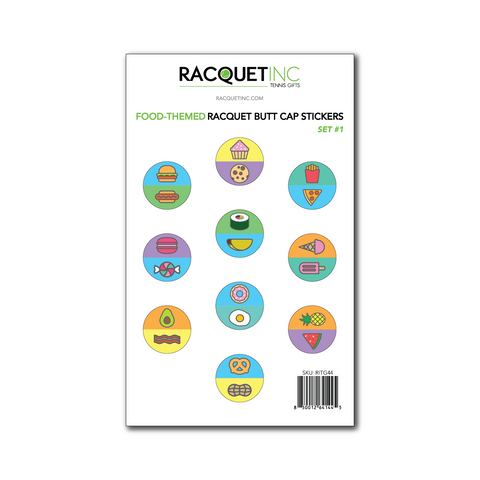 Tired of the boring old brand logo on your racquet's butt cap? 
Replace that with our Food-Themed Stickers. These fun decorations feature a cute and colorful cartoon of your favorite foods. 
Why It's Perfect
Adorable Design.

Features a colorful and ultra-fun design that takes the pressure off of your next match! 

Extreme Adhesive.

Equipped with a very sticky adhesive to ensure it stays stuck at your racquet's butt cap for a long time, with no residue removal. 

Great Gift For Your Tennis Teammates

. It's a perfect gift for anyone who has a tennis racquet and plays tennis! 

10 combinations in 1.

Place one order and you'll have enough for everyone! Each sticker measures 1 inch in diameter.
Get yours now and start customizing your tennis racquet!    
Though there is a HUGE downside in buying this product 
You'll get tired of everyone asking you where you bought it!
Not to mention, it comes with our 100% Money Back Guarantee! 
---
More from this collection