Tennis Laptop Sleeve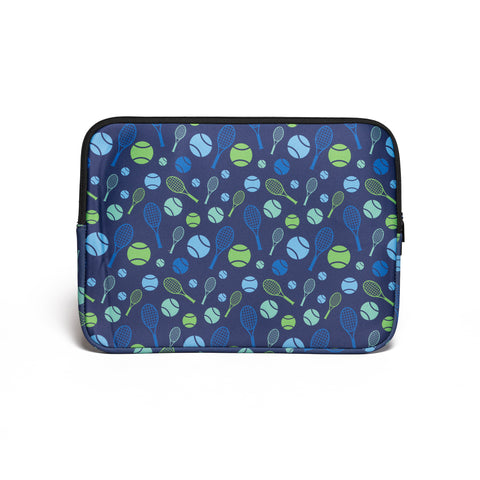 Tired of the plain and simple laptop sleeves that just dulls everything at your workplace? Take your work essential (laptop) in this rad sleeve made from cute tennis patterns!
These beautifully crafted Tennis Laptop sleeves keep your 13"~15" laptops from harmful elements. The sleeve is made from premium neoprene to protect against knocks, scratches, and spills and has a super-soft inner lining that keeps your laptop safe and secured. 
Why use it?
The water-resistant material

provides a protective layer for accidental spills whilst looking cute and stylish! 
Protection from accidents!

The premium quality neoprene material offers advanced protection from sudden impacts, scratches, dust, and unnecessary accidents while being on the go! 
Ultra-Portable!

This medium and thin-sized sleeve, ideal for any laptop or MacBook of up to 15 inches, slides into your bag without any hassle and will be perfect anywhere you go. 
Lightweight!

Composed of lightweight neoprene material that allows you to carry your laptop by hand or by backpack with ease whilst having a slim design that allows you to protect your laptop from wear and tear without getting bulky. 
Our Tennis Laptop Sleeve is skillfully handcrafted to provide the ultimate protection for your laptops, Ipads, and notebooks. Not to mention, the colorful, eye-catching details will look great on your lap!
Order today to keep your work protected with charm and cuteness like no other! 
Though there's a HUGE downside in buying this product…
You'll get tired of everyone asking you where you bought it! 
Not to mention, it's backed up by our
100% Money Back Guarantee!
---
More from this collection